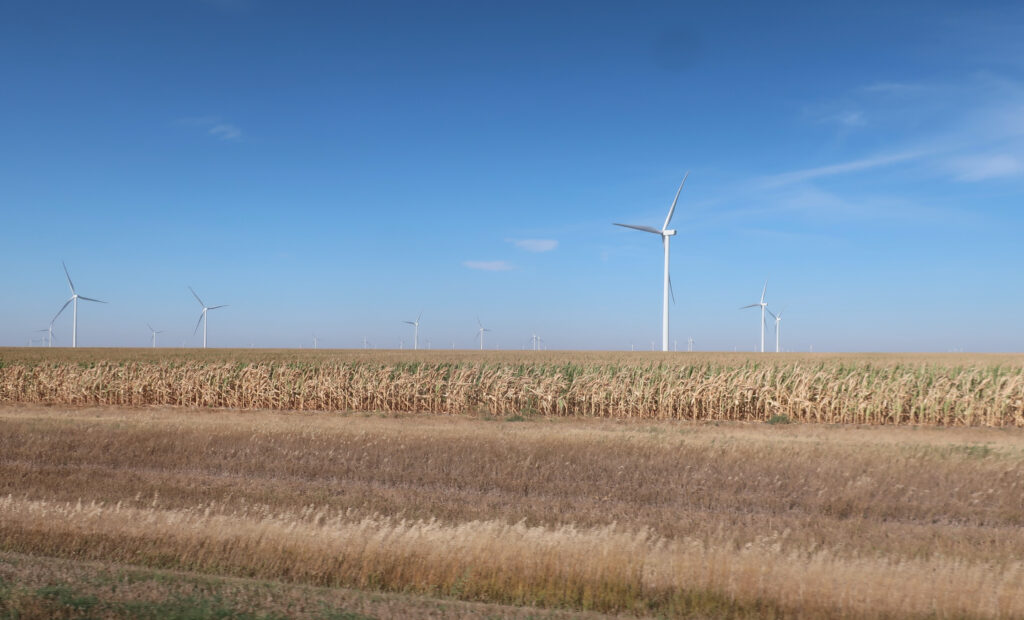 That's all I have to say (hint: look at the corn).
Well, that and boy is this place pretty flat. Not much to report. Not too many pictures because taking one hand off the handlebar was not advisable given the high wind and gusts we had today. Incredibly draining by itself.  Add quickly rising temperatures (mid 90's/35C) to the mix and riding becomes fatiguing fast. Hence, we pace our destinations accordingly.
Done riding early (13:00) but glad to be off the road. Too damn hot and windy to continue. Staying at John Martin State Park – most expensive one to date: $47 for an electric site ($18 park admission, $29 for the camp site). Once we have setup camp, the camp host stops by and tells us there are skunks out and about in the campground after dark. OK. Don't leave out food, use your headlamp at night to scare them away. I could see Diane's eyes go wide as he's talking. 
Diane get's ready to take a shower only to come back a couple of minutes later. Coin operated. Really?  And then, there's a notice posted on the bathroom doors that their well water has high radium content and "although safe", the recommendation is to drink bottled water.  So, what do I get to do. Suit up and ride back out of the park to pick up a case of bottled water. That's all they had at the local store. Wasn't about to ride 30 minutes into Lamar at 101F (38C) to get a smaller amount of water. So, we are good for water now :-).
Sigh. You win some, you lose some and this campground was definitely on the 'fail' side of the ledger. Great potential, nicely laid out but it needed more care. The bathrooms were a mess, cobwebs everywhere, dead bugs in the florescent light boxes and no soap. Again, really? In the end we got through it but we were both looking forward to leaving.