Same waterproof duffle bag, same failure. After my bag failed on the last trip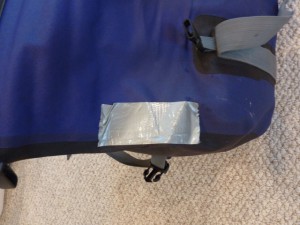 it was now Diane's turn to have her exact same model bag fail, also along the 'welded' seam. Hers was so bad that only after a couple of times of handling the bag the seam kept separating almost all the way! Not good. Not only is it obviously no longer waterproof but there is the danger of stuff falling out when the seam separates at some place that we didn't duct tape.
Time for a replacement. At least the timing couldn't have been  better since were heading into Denver. Side story: We bought the bag in 2009 at REI, a large outdoor equipment store that is known for its customer service and 100% satisfaction guarantee (as well has full retail prices 😉 ). So, I had no problem going to the customer service desk and explaining our situation. He looked up the original purchase and though explaining to me that the bag was old and weathered he would, this one time, 'take care of me' and refund the purchase price. Not bad. That's a good way to build customer loyalty. That still left us without a replacement bag though since they no longer carried that style of top closable duffle. After speed searching  through Walmart, Sports Authority, Cabelas, and REI again, we switched gears and settled on a 40L top loading dry bag. All is well with the added bonus of it being bright orange which adds to visibility while on the road.
Tent fly
When getting our gear ready for the trip I noticed that the seam sealing tape on the inside of the rain cover (fly) was starting to develop cracks and flaking off at points.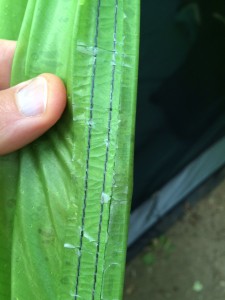 It didn't register at first until one night, lying in bed going through camping gear in my mind it dawned on me that the tape was sealing the fly to make it waterproof.  Oops. Not an issue, or so I thought, and went ahead and bought some seam sealing 'goo' at a local store. After fixing the places that had peeling seam tape I thought we were set. Wrong. After repeated pitching and taking the tent down during our trip the cracking and flaking just got worse, to the point that there were water drops at multiple places inside the tent when it finally rained.
We really like the tent,  Nemo Losi 3P, and didn't want to have to deal with finding a new tent while on the road so Diane contacted Nemo customer service via email, inquiring if it would be possible to purchase a replacement fly – over six years old we figured the tent was long out of warranty. Once again, customer service came through. The email response was quick and hinted that it might actually be a warranty issue. Since we were on the road pictures of the damage, the date we bought it, and the tent serial number would suffice to determine if we qualified for a free replacement. After sending the requested information we were indeed eligible for a free fly replacement! How cool is that, after six years.
OK, first hurdle taken. Now, what address to ship the replacement to? This was Tuesday morning in South Fork, CO. After talking to our customer service representative and confirming that they can ship '2nd day' guaranteed delivery (for a small fee in relation to the cost of a new tent), we looked at the Utah map and determined that we could be in Moab, UT in two days.  We looked up a campground,  made the reservation and gave the address to customer service. Shortly thereafter we had an order confirmation for the cost of shipping and later that evening a FedEx tracking number.
Easy enough, right? Almost. When we get to the campground we specified as our delivery address we don't like it at all. It wasn't a traditional campground but rather a partially converted site with permanent residents/trailers. We didn't like the 'vibe', dogs and kids running loose, run down trailers, not so nice bathrooms and showers. It didn't feel right and we weren't going to stay there for the night if we could help it. So now what? It's 15:45 and we need to find another campground. We could have called around but we weren't going to make the same mistake twice and book something we hadn't seen so I headed out on the bike to check out other campgrounds in Moab. To make a long story short, I didn't find anything and was resigned to spending the night at the original campground. As I rode back I spotted a tent area in a campground that originally looked like it was RV only. A quick turnaround to check closer showed it was clean and they had availability. Sold. I went back to get Diane and we checked in amongst a group of girl scouts that took a bunch of the remaining spots causing a bit of a panic thinking we were too late. It all worked out and we were in. OK, first problem solved.
Now, to change the delivery address for our FedEx tent cover replacement. Again, this should be simple but not so. Because the campground has a commercial address FedEx wouldn't allow me to change it. Only the shipper could. The shipper is out of New Hampshire so they were long gone for the day. By the time she saw our email the next day (day of the scheduled delivery) it was too late. Oh well, since we had paid for the camping spot where the package would be delivered we hoped we'd be OK. And we were, the package was successfully delivered and when I picked it up the clerk that checked us in was even nice enough to give us a partial refund since we ended up not staying there. Life is good.