We were both looking forward to our campground for the night, Hovenweep National Monument. We visited on a previous trip. It's in the middle of nowhere, no electric hookups and thus very, very quiet and peaceful. Riding through the Hopi and Navajo reservations is both awe-inspiring and depressing. The scenery is just unbelievable, you don't know where to look first. Depressing because you see a lot of dilapidated housing and crumbling infrastructure.
Starting with the 'Indian routes', specifically IR 15, I told Diane I wish I had a hat so that I could be waving it will riding this bucking bronco of a street. Holy shit. The aforementioned bronco has nothing on this road. We couldn't even go the speed limit most of the time. We were 100% focused on riding, no day dreaming, constantly scanning for serious problems in the road from pot holes, crumbling shoulder, uneven surface. Thankfully, the dirt brought from monsoon rain-induced flash floods had been cleared up, just dusty remnants on the road but serious erosion on either side of the road.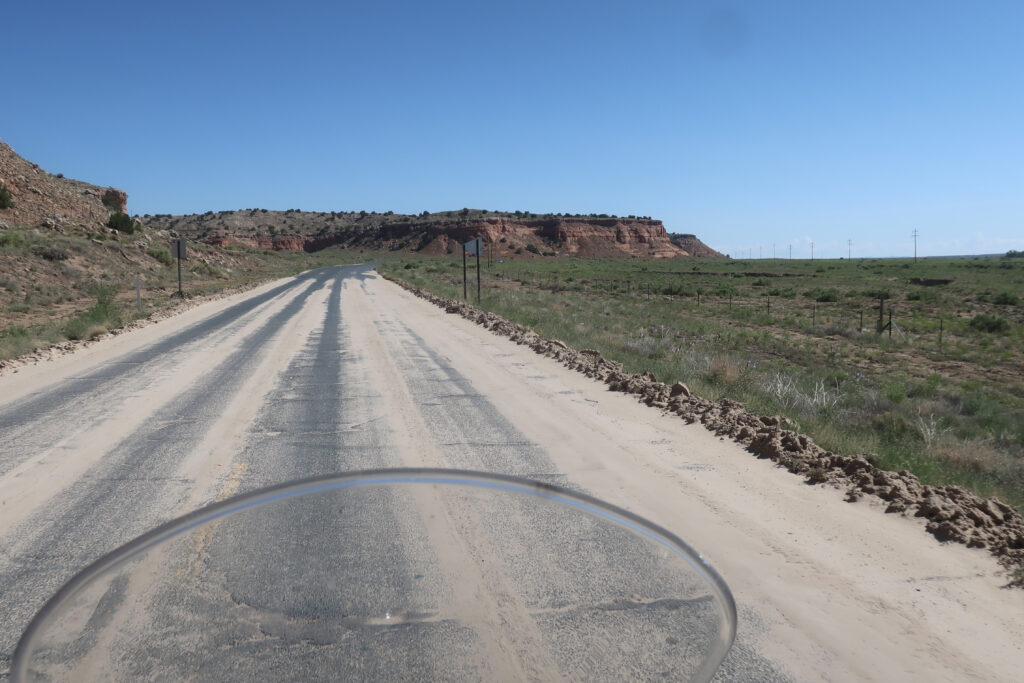 Hovenweep is so remote that the National Park website explicitly mentions not to rely on google or other routing services since they will often not distinguish between paved and dirt roads. Not good if you have a wife that is very averse to dirt/gravel roads. So, Diane wrote down the directions beforehand which we used to get to Hovenweep staying on paved roads.
The campground only had one other campsite occupied. Very nice. No crowds. No shower either but we showered yesterday so no big deal. After setting up camp we just sat in our chairs and relaxed. Oh yeah, no cell service either :-).
P.S. You'll notice a lot of haze in the pictures as we head further north. What you are seeing is the smoke from all the wild fires in the West :-(.